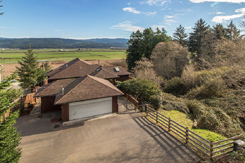 4 Bedrooms
3 Bathrooms
2,475 sq ft
2.2 Acres
Stunning Panoramic Views
The front door opens onto gorgeous, hardwood, walnut parquet flooring, and the phenomenal panoramic views through the towering living room windows and dining slider doors.
The dining room is illuminated by the natural light as well as custom fixtures in the octagonal, hardwood tray ceiling above. The dining slider doors open to a view deck for al fresco dining or entertaining while enjoying the panoramic hill and valley views.